The IBAH luncheon on February 8, 2017, is looking great with guest speaker George Petropoulos, Vice Chairman, Travelers Canada. Make sure you register today!
---
Luncheon Details
Date: Wednesday, February 8, 2017
Location: The Waterfront Centre, 555 Bay Street North Hamilton, Ontario
Cocktails: 11:45 a.m.
Lunch: 12:15 p.m.
Presenter: George Petropoulos | Vice Chairman, Travelers Canada
Ticket Details
Ticket Cost: $20 Advance Tickets | $25 Door Tickets
Presenter Information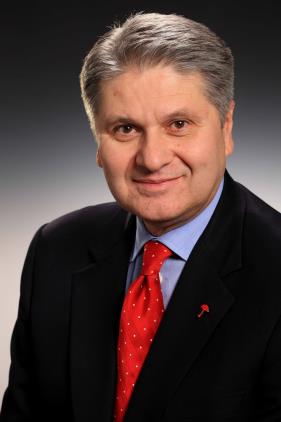 George Petropoulos is Vice Chairman of Travelers Canada and a member of the Board of Directors. He oversees the bond and specialty insurance business, sales and distribution, and several business support functions including strategic planning, marketing, and communications. Prior to the acquisition of The Dominion of Canada General Insurance Company in 2013, George was President & CEO of the legacy Travelers Canada organization. During this time (2002-2013) George led many significant initiatives for the company. Most notably he brought the two legacy Canadian operations – St. Paul Fire and Marine and Travelers Insurance Company of Canada – together and was able to put that experience to good use again after Travelers purchased The Dominion.
With more than 35 years of experience in financial services, Petropoulos has held numerous roles throughout his career. In 1989, Petropoulos was a founding partner of London Guarantee where he served as Chief Underwriting Officer. London Guarantee specialized in Surety, D&O, Fidelity, Professional Liability and Warranty products. In 2002, it was purchased by St. Paul Fire & Marine.
George most recently was a member of the Insurance Bureau of Canada and Canada Construction Association Boards. He is also a mentor for students at the Rotman School of Management. Committed to community, in 2012 he joined the United Way's Campaign Cabinet (Insurance Division). Most recently, George was a volunteer executive with the United Way.  Mr. Petropoulos holds a Bachelor of Commerce degree from the University of Toronto.
Registration Information
Please register below and pay online. If you have any questions you can contact Milena Lewandowski 905-525-7259 ext. 1421 or mlewandowski@danlawrie.com. 
Register Online
1. Complete form on this page and click 'submit.'
2. You will be redirected to a secure payment page.
3. Upon completion of payment, you will receive an email with a copy of your invoice.