We encourage everyone to join us for our upcoming luncheon on February 14, 2018, as we welcome Linda Papadopoulos, Vice President, Risk Management, Jones Brown Insurance Brokers & Consultants.
---
Luncheon Details
Date: Wednesday, February 14, 2018
Location: The Waterfront Centre, 555 Bay Street North Hamilton, Ontario
Cocktails: 11:45 a.m.
Lunch: 12:15 p.m.
Presenter: Linda Papadopoulos | Vice President, Risk Management, Jones Brown Insurance
Topic: CYBER INSURANCE…A BROKER'S PERSPECTIVE *please note this presentative is awaiting RIBO Accreditation
Ticket Details
Ticket Cost: $20 Advance Tickets | $25 Door Tickets
Presenter Information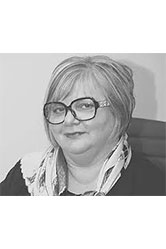 Linda has been in the insurance industry for over 32 years and for the past 10 has been the Vice President of Corporate Risk Management at Pearson Dunn Insurance Inc, a Jones Brown Company providing risk management and insurance consulting for corporate clients and public entities such as municipalities, educational and healthcare institutions, large manufacturers, financial institutions and other clients with diverse and global operations. The greatest asset Linda brings to her clients is her "market intelligence" regarding trends in risk management, legislative changes and insurance product development always keeping abreast of insurance market trends and respective challenges. Linda has taught various insurance and risk management courses at Mohawk College, and McMaster University for over 20 years.   In 2013 she developed the online version of the risk management courses for McMaster University leading to a Canadian Risk Management (CRM) designation. In addition, she has conducted risk management seminars and workshops for various corporate clients and associations such as the Excellence in Manufacturing Consortium; Ontario Insurance Adjusters Association;   the Insurance Institute of Ontario;  Society of Public Insurance and Risk Management Administrators (SPAIO); Arcelor-Mittal School of Excellence.Linda has a Bachelor of Science Degree in Business Administration along with her  Chartered Insurance Professional (CIP) Designation; Canadian Certified Insurance Broker (CCIB), (She is one of approx. 200 brokers that carry this designation in all of Canada); And, Canadian Risk Management (CRM) designation.  She is currently preparing for the Canadian Enterprise Risk Management, (CRM-e) exam.Linda is the recipient of the 2013 Instructor of the Year Award, Continuing Education, McMaster University and, 2014  Insurance Broker of the Year Award, Insurance Brokers Association of Ontario. She is a member of various industry associations and has served on various board including the Insurance Institute (Niagara Chapter) and as a past  IBAH president. She is a current Member of the Insurance Advisory Committee at  Mohawk College and likes to volunteer in the Hamilton Community where she lives.
Registration Information
Please register below and pay online. If you have any questions you can contact Milena Lewandowski 905-525-7259 ext. 1421 or mlewandowski@danlawrie.com. 
Register Online
1. Complete form on this page and click 'submit.'
2. You will be redirected to a secure payment page.
3. Upon completion of payment, you will receive an email with a copy of your invoice.