We encourage you to join us for our upcoming luncheon and Annual General Meeting on Wednesday, October 9, 2019. We're thrilled to welcome Jeff Gatcke B.Sc., CAIB, President IBAO as our presenter.
---
Luncheon Details
Date: Wednesday, October 9, 2019
Location: The Waterfront Centre, 555 Bay Street North Hamilton, Ontario
Annual General Meeting: 11:00 a.m.
Cocktails: 11:45 a.m.
Lunch: 12:15 p.m.
Presenter: Jeff Gatcke B.A.S., CAIB | President, IBAO


Ticket Details
Ticket Cost: $25 Advance Tickets | $30 Door Tickets
Presenter Information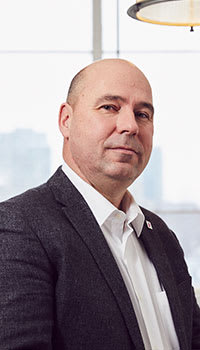 Jeff was raised near Kincardine, ON.  Raised in a farming community, Jeff sought higher education at the University of Guelph with a degree in Bachelor of Science in Agricultural Economics.  Jeff has always been quite active in the community and/or political groups.  He is a Past President of the Students Federation of OAC (University of Guelph), as well as a Past President of the Junior Farmers Association of Ontario.
For the past 14 years, Jeff has worked as an insurance broker with Shaw Insurance in Kingston.  He was hired by Earl Shaw to look after many of Earl's farm and rural clients so he could retire. He currently sits as Secretary/Treasurer for the local Kingston Insurance Brokers Association, has served as Territory 12 Director, and most recently completed his first term on the  Executive of the Insurance Brokers Association of Ontario. Jeff is married to Corinna Smith-Gatcke for the past 18 years and has two young boys Jack Ross 13 and Alexander Smith 10.   Jeff and his wife Corinna have been active in many local Leeds & Grenville political campaigns.  In fact, Corinna has just been sworn in as the new Mayor of their home community: Leeds & the 1000 Islands. Jeff enjoys competitive golf and long summer weekends on their boat.  Since selling their farm, they now live in their home overlooking the beautiful St. Lawrence River in the heart of the 1000 Islands.
Registration Information
Please register below and pay online. If you have any questions you can contact Tim Bartels 905-957-2333 x4251 or timb@meesterinsurance.com . 
Register Online
1. Complete form on this page and click 'submit.'
2. You will be redirected to a secure payment page.
3. Upon completion of payment, you will receive an email with a copy of your invoice.